School morale is often overlooked and underrated. Morale has been identified as having the biggest impact on student achievement and teacher retention. It is also a powerful force that brings about change. Despite these big impacts, it gets pushed aside. Teachers need morale building more this year than any other year. Teaching is hard. Teaching is hard, even on the easiest of days. Now, more than any other year, is the perfect time for the leader of the building to rally the staff together.
If you're looking to boost the morale of your campus, here are 5 things in which principals can do that won't cost a dime.
I was asked just a few days ago this question: "To what degree, if any, does the school principal have to do with campus morale? My answer: EVERYTHING. The principal has everything to do with building and boosting morale.
"The success of your school depends on your ability to motivate."- McConnell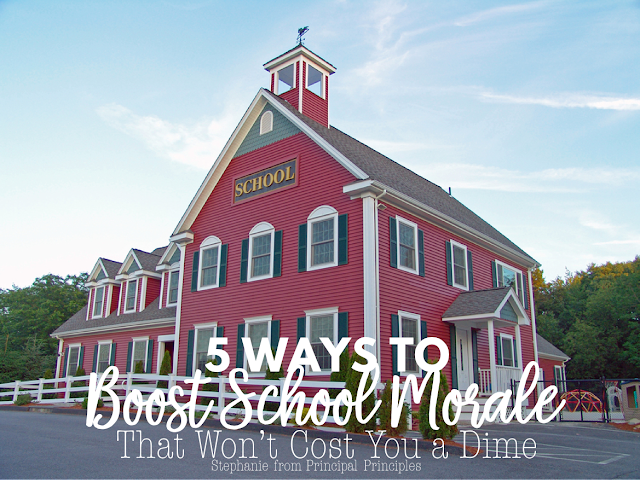 1. Family
There is clearly something to say about leading a school with a family approach. Treat your staff like family. Have each other's back and always help one another improve. This simple approach creates a sense of belonging. We care for each other. We cry for each other. We also bicker with each other. But at the end of the day, we are better together than apart.

Tip 1: Create a sense of family.
2. Relationships are key
Do you really know your staff and do they really know you? It is easier to motivate when you truly know your staff. Relationships really do matter. Developing those relationships takes time. It is imperative that the people you work with trust you, respect you, have confidence in you, and want to work with you. You must continue to earn those trusting relationships every day. My mindset changed over the years. I noticed my mindset went from I work "with you" to I work "for you." When we change our mindset to that of service, we have an opportunity to really grow those relationships.
Tip 2: Build and repair relationships.
3. Lead
Leadership is about sharing, giving, and making those around you better. Leadership is about uniting and inspiring your team to perform. Leadership is much more than just a position of authority. Teachers want to trust their leaders, but many don't really know "the person" that is leading them. Lead with kindness and intention. Leadership by fear limits the growth of your staff and the opportunities for achievement. Seek to serve, rather than be served.
Tip 3: Be the leader you would follow.
4. Support
Support your teachers. The role of a principal in supporting teachers can be challenging at times, but absolutely necessary. I know I have made a ton of mistakes and even questioned my own actions on a lot of things over my years a principal, but I have tried to make it a priority to always support my teachers. Just this week I spoke to a teacher who is having a very difficult time at her school. It appears that this teacher has a lack of support from the principal. Everyone you work with deserves respect in the workplace. Give teachers the support they need to be successful. When teachers are successful, students are successful.
Tip: Treat everyone like they make a difference and they will.
5. Encourage Growth
Encourage your staff to grow. They will become more productive as a result of it. Teacher development not only benefits the teacher and the students, but it will benefit your entire school overall. Make sure professional development is a priority. Take a look at your data to determine areas in need of a little fine-tuning. Hone in on those areas and provide training that is relevant and easy to implement. Another way to encourage growth is to encourage teamwork and networking on the campus. Create a healthy environment that supports teachers working with their colleagues. When teachers feel they have the opportunity to grow, they will strive to meet expectations. They want to see their school be the best it can be. Power is greatest when we are all leading the way.
Tip: When principals encourage teacher growth, teacher morale also increases.