The summer is extra busy for me this year. Last year (2016-17 school year) I decided to be a "work- from-home-kind-of-girl." I focused on Principal Principles through online mentoring, presenting, and consulting with schools. I loved it, but I missed my calling. I'm blessed to get to do what I love every day. So therefore, I decided to return to the principalship. I'm only a couple of weeks into the job, and it has been a big adjustment. Fortunately, the former principal has been a wonderful asset and help to me as I transition to fill her shoes.
Here's a look at my first unofficial couple of weeks:
PRINCIPAL OFFICE REDECORATED
I decorated my office. I had to get that done first so I can focus on all the rest. I need to have a space that feels like home. I don't spend a lot of time in the office during the year. However, I wanted it to look inviting to all the staff and community who may enter.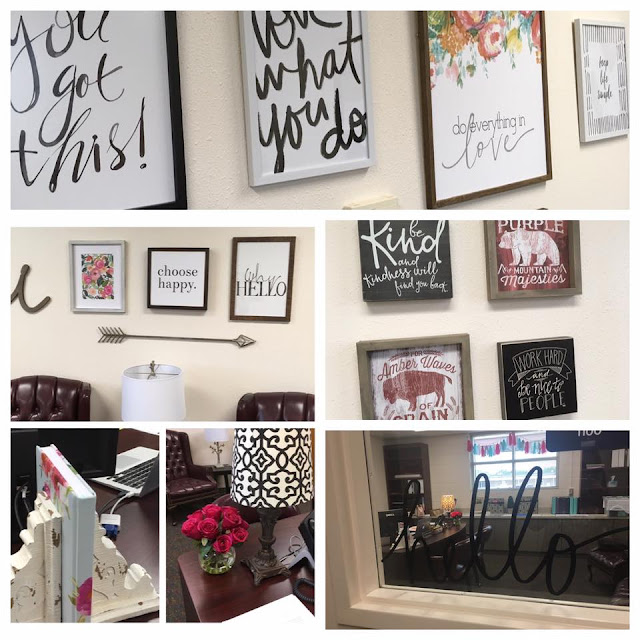 PRESENTATIONS:
I have started working on professional development powerpoints and activities. I plan on sharing tons of pictures as soon as everything is ready.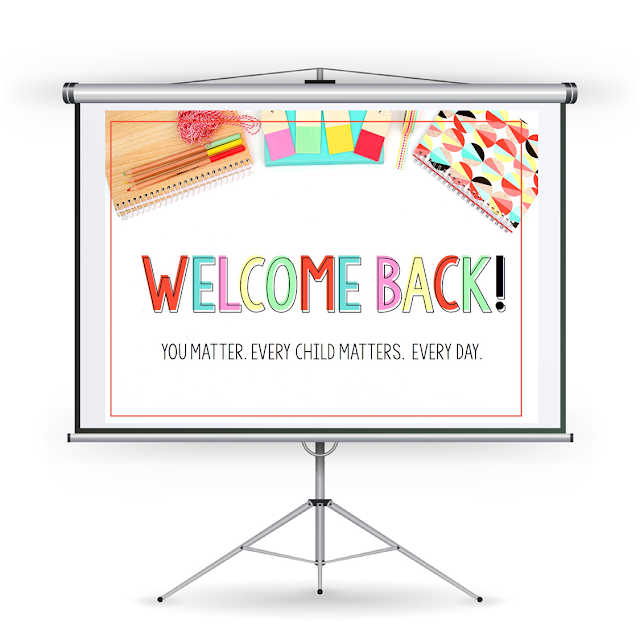 OUR SCHOOL MOTTO
The motto is You Matter: Every Child. Every Day. I'm inspired by Angela Maiers and her message. This was very easy to put up in the main entrance of the school. I purchased the large YOU MATTER letters from Michaels and spray painted them- pink, blue, green, and purple. The Every Child Every Day letters were already black. I used adhesive to the back of the letters. I'm crossing my fingers and hope they stay up all year.
PROFESSIONAL DEVELOPMENT
I will be creating a Professional Development Calendar for the year and using anchors charts is top of the list. I found these anchor charts from
Hillary Kiser on TpT
. My training show how anchor charts can be used in all content areas and all grade levels too.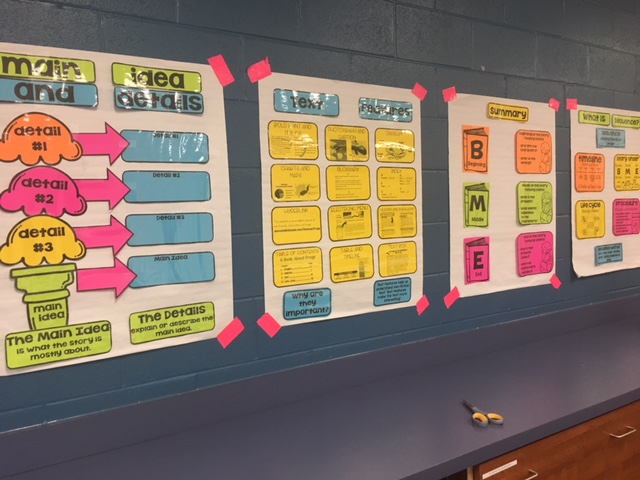 Other possible topics during the Professional Development week are: STEM/STEAM and Growth Mindset. I'm still working on the PD plan.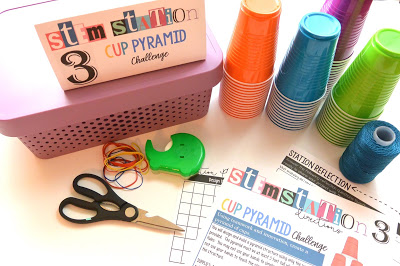 BULLETIN BOARD
Be The Change is a bulletin board I created in the main hall of the school. It is actually the first bulletin board you see when you enter the building. I wanted it to be bright with a positive message. I purchased this bulletin board from Texas Lone Star Teacher on TpT.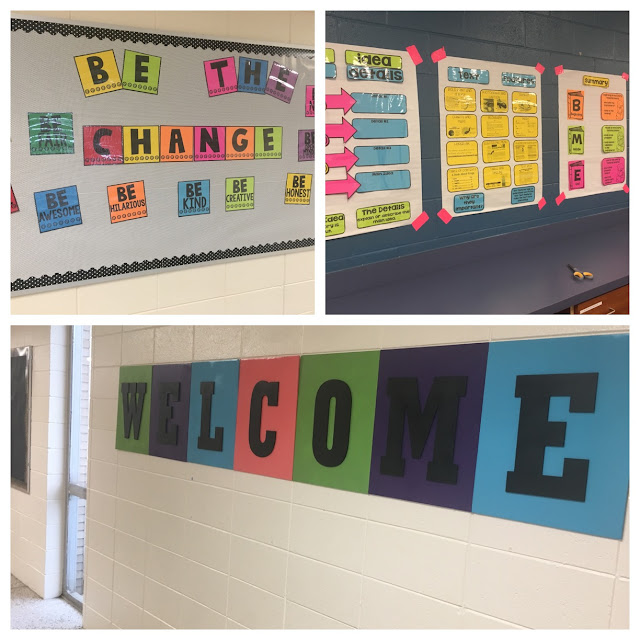 On Facebook last week, I shared how I created a WELCOME wall. This was very easy and inexpensive to create. The letters are very light weight letters from Hobby Lobby. I spray painted them black. The colored backing is foam board. I spray painted these in the same color as the You Matter bulletin board.
DATA TRAINING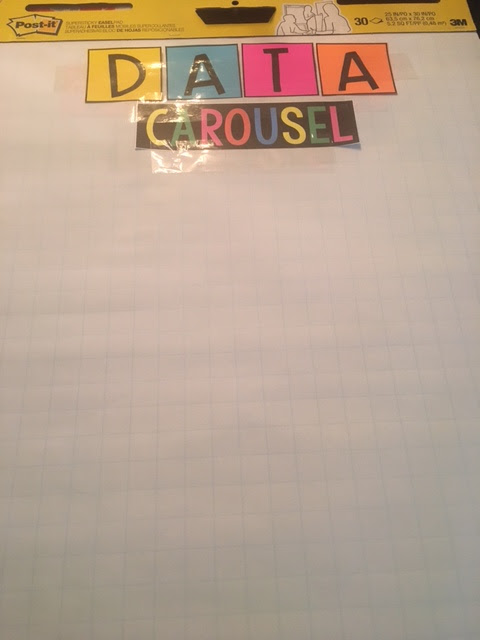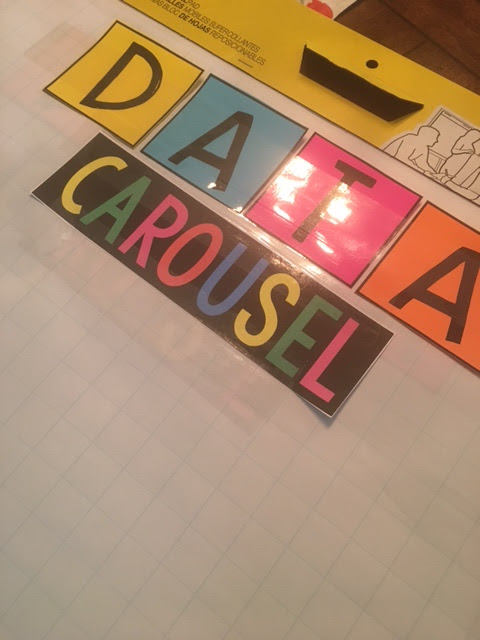 Have you ever tried a Data Carousel? I created a video to help explain how this works. If you need extra information on how to get started, google data carousel. Teacher Channel has a great video on it.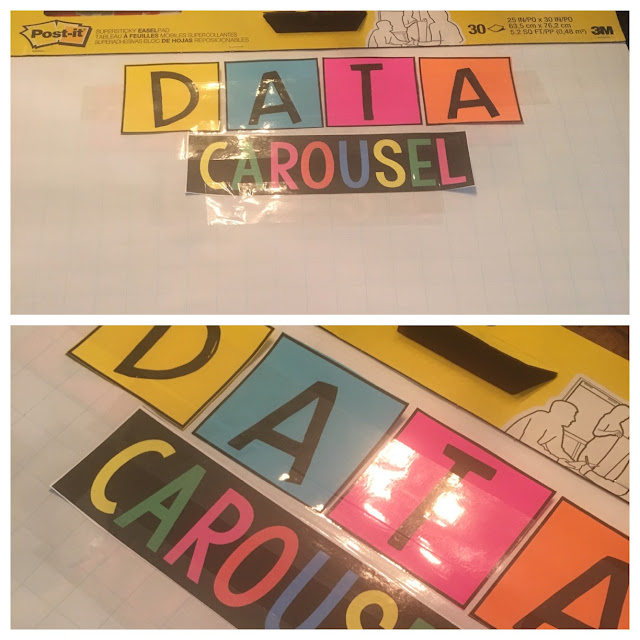 DATA CAROUSEL
Teachers move around the room in groups and analyze data sources. Each group of teachers will have their color marker. For example, one group will have one red marker, another group will have a blue marker. This marker moves with the group. Groups will have a set amount of time to work together to analyze the data. When the group is finished at that station, one person from the group will write a narrative fact about their findings on the chart paper using their color marker. At the end of the activity, you can see that all groups have finished by checking for all colored writings on the charts.
For my school, I will have 6 groups. Therefore I will have 6 chart papers with the headers, 6 data printouts, and 6 different colored markers. I picked six because I will be focusing on core subjects and state data reports which came to 6 different groups. I will divide the groups into different grade level teams.
When all groups have completed all data stations, the facilitator will then look for similarities and discuss solutions. Take time to celebrate victories. There are always pockets of growth that we can celebrate. Do not focus on only the areas of improvement.
SET THE STAGE:
Prior to beginning this activity, discuss how this is not an activity to blame or point fingers. Data is not used in a negative way. No one is being judged by looking at the data. You can help eliminate this by telling the group to be thinking about our systems or our resources that might need to be changed. This will shift the focus from "people" blaming to a focus on our systems, our curriculum, or resources, etc…