Here is a true story.  Every day, I have about 50 tabs open on my computer, and I use two search engines. Don't ask me why I use Google and Safari.  I think 100 tabs is better than 50…I guess.  As you can see how anyone with OCD would just go nuts.  That chaotic mess is me on any given day.  I started making a google hub or dashboard early in the school year, and I didn't keep that project going.  I have made it my life goal to keep this system of organization going for the remainder of the year.  I need some simplicity.
So let me get you started on creating a dashboard for your own documents.
HOW TO CREATE A GOOGLE DASHBOARD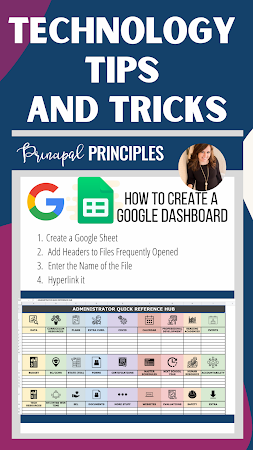 1. GOOGLE DASHBOARD TEMPLATE
Feel free to use my own template in Google Sheets:
Google Dashboard for School Administrators
.  The icons are generic, so your titles can be easily renamed.  Every part of this file can be edited to fit your own school.  If you love the idea, please create one for your staff too.  This particular document is for all the admin in the district to access, but you can create one for teachers too.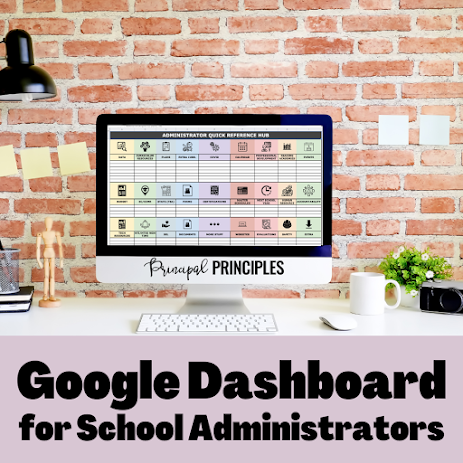 The Google Dashboard for School Administrators link will ask you to make a copy.  This will protect my own file and protect you from sharing your files with the rest of the world to see if you accidentally start to fill my document with your own links.
2.  ADD YOUR OWN LINKS TO THE CELLS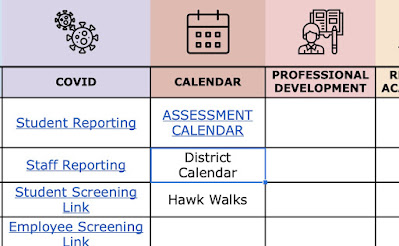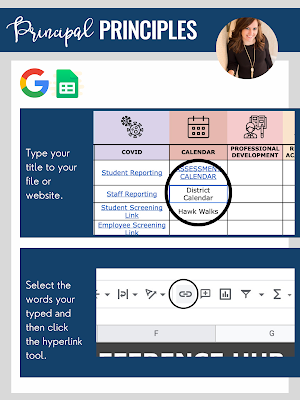 WEBSITE LINKING
Enter the website text you wish to have quick access to.
For example, District Calendar.
Select the words to hyperlink.  "District Calendar" is selected.  Now click the hyperlink symbol.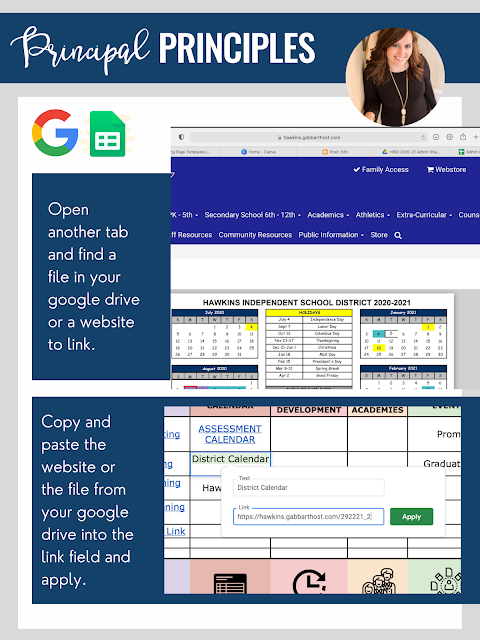 DOCUMENT LINKING FROM GOOGLE DRIVE
Open another tab and find your file in Google Drive.  Copy and paste the website url link or the google drive file url link in the link field and click apply.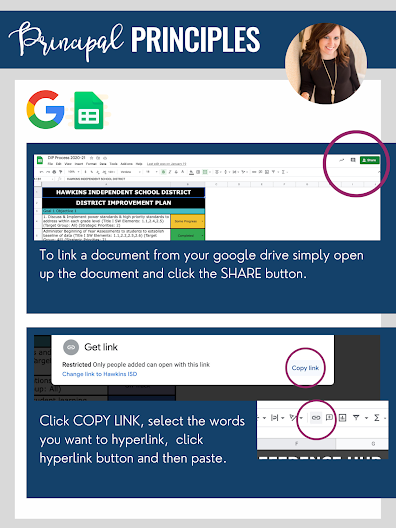 I hope you have found this very helpful.  If you have questions, please let me know.  I can do a quick Live tutorial on Instagram or Facebook.