Are you needing ideas on ways to celebrate with your students and teachers? Check out The Ultimate Guide to Celebrating Successes with Students and Teachers.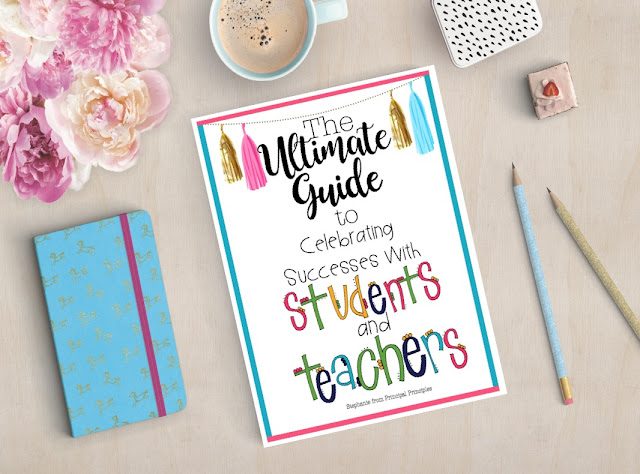 The Ultimate Guide comes digitally so you can choose to print or keep as a digital reference. I wanted all list of wonderful ways to celebrate students all in one place. As I was creating this, I asked some of my educational bloggers to share some of their resources too.
The Ultimate Guide to Celebrating Successes with Students and Teachers is a FREE download.
DOWNLOAD GUIDE AFTER SUBSCRIBING
I decided to laminate my guidebook and bind it for my desk. This just works for me. If you choose to do the same, I have included the sites of where the resources are located. When using the digital file, I have included links directly to the location.
Most everything in the Guidebook can be downloaded for FREE.
Take a look at how a student can recognize another student with this You Are Spot On Award.


You Are Spot On
You Are Spot On is an award from one student to another student. The staff version is called UP Award. I love the idea of students recognizing other students for their leadership and the ability to go above and beyond. Sometimes there is more meaning in the award when another student gives the award. This creates a tight family-type atmosphere. We need more of this! This is the kind of world I want to live in.
UP Award
The UP award stands for Unleashed the Potential. Instead of an administrator nominating awards for their teachers, colleagues are nominating other colleagues. This is the same idea as the student version, You Are Spot On.
We need to do more celebrating the excellent people we work with. Faculty and staff recognition is important to the culture of your school. Showing appreciation for those we work with is one of the many things that makes your school a great place to be.
Creating a success stories jar is easy. Just print out the cards and pass them out. Teachers can submit their own successes, their student successes, or add a success from a colleague.
Share the successes with your staff at your next faculty meeting, through email, or in small group meet-ups. Just pull a few cards out of the jar each week and share. After sharing, place the card on a bulletin board so everyone can continue to read them throughout the year.
Sharing our successes is a great morale booster. We should create an environment where it is okay to "toot our horns."
Your greatest asset is your students, staff, and families. Without them very little would be achieved. Systems of recognition and rewards help maintain a culture of motivation, unity and work satisfaction. Happy employees are more loyal and hard-working.
Keep the energy alive. Motivate through celebrating the great work that's happening on your campus!