Every minute of the day counts. Managing can seem overwhelming. Time management and shortcuts are essential. Over the next few weeks, I plan on sharing several resources that help you make the most of your time and focus on what truly most important rather than what is most urgent. Here is Part 1.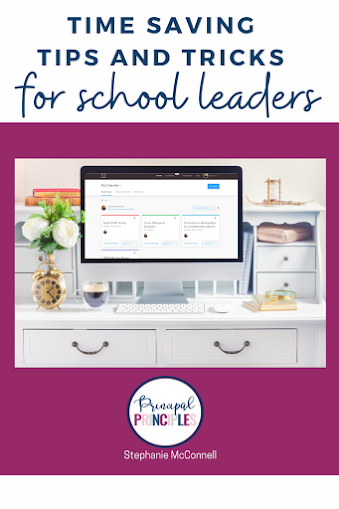 Have you started using Calendly?
Calendly can really be your best friend. It can be used to schedule any appointment with ease. When teachers need to sign up for an evaluation, pre-conference, post conference, etc… Having a calendar link keeps scheduling a hassle free situation.
Let me show you how to use it and then you determine how it best fits your job position.
Here is a look at some current appointments on my calendar.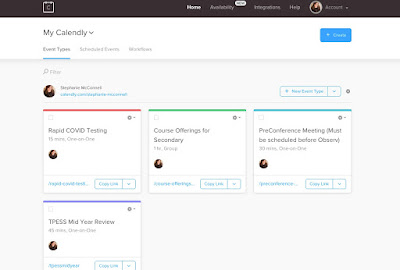 1. First build common weekly/daily appointments that always reoccur or need to be scheduled.
Such as student meetings (ARD's) or teacher evaluations, or parent appointments. Name them very generic so you aren't finding yourself renaming them over and over again.
2. Integrate Calendly.
This is an important step. Integrate your calendly account to your platform. For me, this is Google Calendar. This helps the appointments not to overlap. No one will see what is on your calendar. They will only see open/available appointment slots. You can also connect to GoToMeeting, Google Meet, Zoom etc…
When you connect it, you can pin it to the top of your calendar.
3. Share the link.
You can share the link in multiple ways.
1.
Copy Link and paste in an email.
2. Embed available times directly into an email.
This is the view that will be viewable. They pick the time that doesn't overlap any scheduled appointments on your calendar. Click Confirm and it goes directly to your calendar.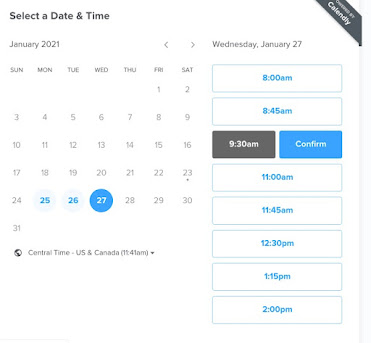 For this to really save you time, set up all of your regular occurring appointments and keep the link handy.
For more advanced features, it requires purchasing these add-ons.
I do have some added features, but I have been using Calendly for years and just decided to purchase the extra features.
For example, Notifications and Workflows have been added to my account. I have set up email confirmations, email reminders, and text reminders.
I hope you have found this tutorial helpful. Stay tuned for another tip and trick for saving your a lot of time.