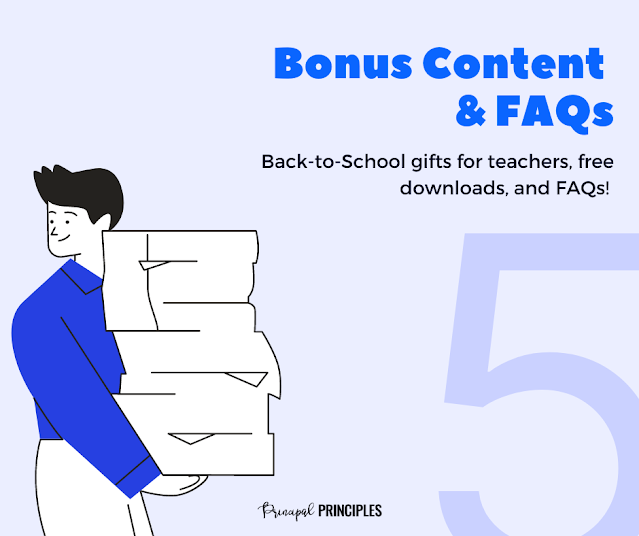 It's the last day of the Back-to-School Resources Week!
Today, I'm sharing back-to-school gift ideas for teachers, a Meet-The-Teacher template that's free to download, and FAQs! ✨
This school year will be much different than previous years due to COVID-19. We have to adjust our learning structure, educate teachers in the remote learning tools, ensure health and safety standards are met, and so many other things. It can be a very stressful time, which is why it is so important to recognize your staff in a meaningful, thoughtful way.
Here are some ways you can do this:


OPTION 1: HOME OFFICE FAVORITES
I've created a
list on Amazon
containing many things teachers would like when working remotely. These are helpful items that range from $6-$23.

OPTION 2: BEST TEACHER GIFTS FOR 2020-2021
Here is a link
to some of my personal favorites!
💡 For
the socks, you can add a gift tag with something cute about 6 feet for social distancing. Also, I've been loving all the clear coffee mugs that have been out lately and I found a teacher version! I have the grey shirt and it is super comfy.


OPTION 3: PRE-ASSEMBLED KITS
Gift packages are a great way to show appreciation and care for your staff but many of us don't have the bandwidth to put one together. In order to help with that, I've found a few favorites of pre-assembled gift options that can be directly mailed to teachers.
FREE DOWNLOAD
Click here to download a
Meet-The-Teacher
template that includes your favorite at-home activity, Google Classroom link, and your picture in a computer graphic!

FAQS:
Q: How will you boost employee morale from a distance this year?
A:
Go here
to read a post with several ideas to help you get started!
Q: How can I make my school higher-performing?
A: My Superintendent (Morris Lyon) and I wrote a
book
on how we achieved high-performing results that led to winning the National Blue Ribbon Award in 2019. We also have an
online course
and an
online book study
that has been a huge hit.
Q: What books do you recommend for school leaders?
A:
Go here
to find my favorite books on leadership.
Q: What is your must-have item for staying organized?
Have more questions? Post them in the comments section below!✨
Thank you all for following along the Back-to-School Resources Week! I hope you found the information helpful!